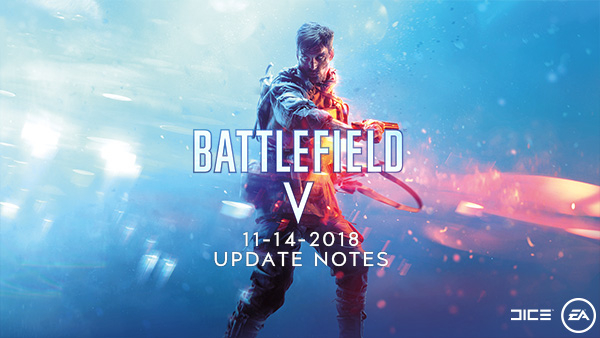 Hi Battlefield V Community,
We're proud to announce that the
Battlefield V 11-14-2018 update
is now live! Below you will find the full update notes, how to enable DXR on PC, and a link to the new Battlefield V Update Notes archive on web where all update notes will be published going forward.
Battlefield V 11-14-2018 Update Notes
This is a smaller update that resolves a few stability issues that we've identified as well as a squishing a few bugs related to game modes.
This update also enables RTX ray tracing for graphics card that support this feature.
Change List
Fixed an issue that could result in a very uneven number of players at the start of a round.
Made improvements to matchmaking with a full squad which should result in less disconnects.
In some cases, the revive functionality would suddenly stop to function for all of the players on a server. This has now been fixed.
Further improvements to game client stability have been made.
In the Airborne game mode, spawn protection has been added when attackers spawn into planes. The planes are no longer as vulnerable to AA fire as they used to be at longer distances.
Fixed an issue in Airborne where the bomb carriers could finish arming the objective even though they were dead.
Players can no longer shoot down airplanes too quickly in Airborne, which could result in the attackers not being able to spawn.
In War Stories, players are no longer able to collect Letters while playing offline due to them not being able to update the persistence counters, which requires an online connection.
Fixed an issue where a weapon would disappear on the weapon selection screen.
Fixed an issue in Frontlines mode on Devastation where the bomb in some rare cases spawned inside a wall.
Fixed an issue which made the menus unusable when cancelling a matchmaking session.
Fixed an issue with the lens sight alignment on the MP34 weapon.
Xbox One Only
Improved how the game resumes when using the Xbox One Instant-On function.
PC Only
RTX ray tracing can now be enabled with graphics cards that support this function.
How to Enable DXR for PC
If you have an Nvidia video card capable of utilizing their ray-tracing technology, today you'll be able to dive in for the first time with this amazing tech.
First, you'll need to ensure you've installed the Battlefield V 11-14-2018 Update, and have the latest Nvidia drivers. Additionally, you'll need to make sure you've installed the latest Windows 10 Update - "Windows 10 October 2018 Update". If you have automatic updates turned on for Windows, you should have it installed. If you don't have automatic updates turned on, you can manually check for the update and download it .
Some details to help you get started:
Install the Windows 10 October 2018 Update (RS5) - Windows 10 will automatically download the October 2018 Update on your computer if you've turned on automatic updates in Windows Update settings. When the update is ready, you'll be asked to pick a time to install it. After it's installed, your computer will be running Windows 10, version 1809. If you want to install the update now, select Start Menu -> Settings -> Update & Security -> Windows Update, and then select Check for updates. If updates are available, install them.
Enable DX12 & DXR in Battlefield V - To enable Ray Tracing in Battlefield V, go to VIDEO -> ADVANCED to enable DX12 and DXR in the game
Battlefield V Update Notes Archive
You will find all past and current Battlefield V updates archived
here
.
Post edited by PartWelsh on