Everything wrong with air gameplay in BFV.
Discussion
This'll probably be a long post, so read what you want to read.
I'll start by quickly introducing myself.
So I'm Silk, I've been playing BF3 and flying since late BF4. I've always enjoyed the air gameplay in Battlefield games and put a fair bit of time into it.
In Battlefield 4, I had around 50,000 kills in the jets, and while I skipped BF1, I've already acquired 18,000 kills in the BFV fighter planes. This part's kinda cringe but I guess it shows that I've got a bit of experience.
So, lets get into why BFV air gameplay sucks:
Dogfighting is the worst it's ever been
Ever since BF4, DICE has slowly been peeling back the skill gap for dogfighting.
The two biggest factors here are:
Max FOV - Basically affects how often planes are in blind spots in a dogfight. The higher the FOV, the more often you can see the enemy plane.
Turning speed - Faster turning speed reduces the time a chasing plane has to react to a switch (a change in direction). You also enter enemy blind spots faster and there is less time between every head on. With a slow turning speed, you can pretty much see the enemy wherever they're going.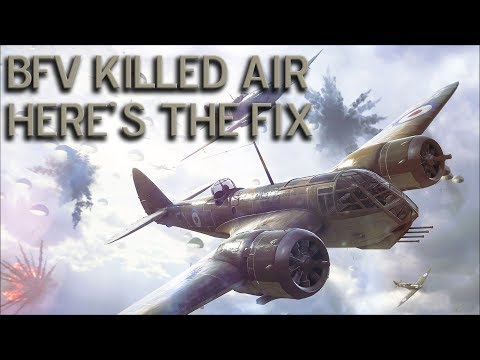 - Pewpie has a pretty good video explaining these factors.
Some smaller things include:
Radar - BFV has a radar on certain planes. In BF3 and 4 planes had radar, but also had ECM jammer that hides you from radar. Without this, a good pilot can use the radar and know exactly where the other plane is at all times.
Time to kill and disabling: In BF3/4, planes had a very fast air to air time to kill, but the guns were incredibly accurate. BFV planes have an almost as fast TTK, but the guns have a lot of spread and the hit boxes feel very forgiving. This makes aiming easy to learn, but gives diminishing returns as you get better.
In BF3/4 the planes had a certain amount of health where the plane would be disabled (around 34/10 hp). In BFV we have random wing, engine and tail damage. If you randomly take any of this type of damage, you're at a very large disadvantage in a dogfight.
The flight model is also beyond inconsistent, and I don't even want to get into it.
The point here is that in the state of BFV, you need very little awareness in a dogfight. Outplaying people on defense is very difficult and playing on offense isn't even enjoyable. Against a skilled 1v1 pilot, no defense will work, in public your best bet is boring brake tactics.
2. Asymmetrical balancing
Everything about the vehicle balance in this game is asymmetrical. However, in relation to planes, there's a few key things.
Firstly, the British team has no viable bombers or light bombers. This results in the entire team often flying Spitfires.
The German team has the best bombers and dive bombers. They're easier to use than the fighters and more appealing for the average player. Often the Germans are mostly bombers.
Fighters kill bombers, so if you're flying on the Germans, you'll often be completely destroyed before the match even starts as your team chose the wrong planes.
As a side note, I don't think bombers have a place in the game. It ends up being a case of whoever has the most bombers loses air superiority. I think they can be left in the game if we had specific roles that needed to be filled. E.g. Twisted Steel - 1 fighter, 1 stuka/mosquito or another fighter and a bomber.
A lot of people seem to say that the VA is overpowered, I think it's more the effect of being ganged by VA's when your whole team is bombers. The G2 while harder to use can definitely compete.
To take this further, the British AA ends up being chosen a lot more than the German AA. It's one of the best anti infantry vehicles in the game, so people tend to run it even if there aren't planes up. The Germans also don't have a fighter that can 1v1 an AA, so bombers might be used more. The British have a fighter that can 1v1 AA, so they won't have to use bombers as much.
My solution, while not realistic is probably the only way to properly overcome asymmetrical balancing.
I'm taking my solution from BF3, so I'll give some context. In Battlefield 3, the starting weapons were the M16 and AK74. As a lot of you would know, the M16 was the best gun in the game, but was only available to the Americans. Instead of **** around with asymmetrical balancing, DICE just gave it to both teams once you hit max assault level.
I suggest the same thing is done with all vehicles. Once you max out a fighter of some class, you should be able to use the other teams load out. It'd completely remove the bomber issue, and fix a lot of the fighter problems and allow Germans to combat the AA with a fighter.
3. AA
AA is an absolutely essential feature if the map has planes (cough cough Aerodrome). Currently however, DICE seems to have no idea how to balance it. At the start of the game, I'd say AA was fairly balanced as a pretty experienced pilot. A lot of people disagreed with me saying it was overpowered, but I'd argue it's power was fine, but it was a bit easy to use.
We then saw the planes all get nerfed through the ground. This basically resulted in the AA generally dominating everything on the British team except for the VB, which kinda sucked anyway with a 30 second rearm timer.
Germans always have been able to deal with stationary AA with rockets, but an AA tank has never and still can't be killed alone as a fighter pilot.
We then went through that phase where the AA did literally zero damage (n1 dice), which while fun for pilots was pretty ****.
Now the AA basically instakills fighters and still struggles to down a bomber if they have autorepair and take cover.
- I just launched the game to get a quick little AA clip. It's pretty fast...
Again this would be fixed by either buffing the German rockets to around 50 damage if both hit perfectly. These can be dodged by the AA if he's aware, but 50 damage would allow you to work with a friendly fighter to kill an AA. The other option is doing away with asymmetrical balance as the British VB can kill AA's.
I also think the AA should be a bit harder to aim. The general rule is that if you suck with it, you shouldn't be effective.
4. Miscellaneous
Now I'm just gonna bring up a bunch of things I hear from a lot of people, along with some of my opinions on them.
I get a lot of plane related feedback from my YouTube channel, which is a pretty decent representation of the average pilot.
a. Spotting is generally pretty hard for a lot of people, and strafing is even harder.
I don't really have any opinions on this, I'd say it's pretty valid as I've never seen anyone in a fighter, outside of a couple of my friends get more than 50 kills.
b. Speed control is needed or else you can't win against inferior pilots.
I'd say this isn't true, but it definitely helps. If the game lowered FOV and increased turning speed, dogfights would be in a better place.
Anyways, I think I'll leave it here.
Thanks for reading if you managed to get through it, and please leave criticism in the comments.