On November 9th 2018 DICE unleashed BFV and like any other game it suffered from bugs and balance issues. Unlike past titles though this one included one particular bug that that had far reaching effects on any map that contained vehicles: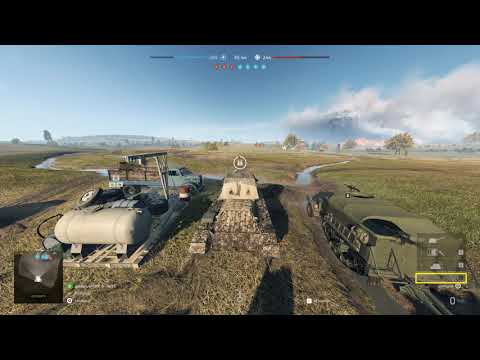 This bug allows any player to stack up on secondary shells by repairing at the vehicle depot and before the cycle concludes switching from the primary to secondary weapon. I hope everyone will understand how much of an advantage having unlimited Case or APCR shells means. For those that don't though, all you need to know is that specialty shells are powerful shells that are ostensibly limited in quantity far below your primary weapon allotment. Being able to circumvent this means you are cheating and have in your possession a super powered vehicle.
This bug was first reported properly through
EA bug forums
on November 20th. After having just logged in this morning to test to see if this was fixed in the latest patch I am disappointed to report that it has not.
To whom responsible at DICE I am thoroughly disappointed in your efforts. I've worked through mixed emotions with BF3 and 4 and tried to be sympathetic to the plights and challenges of making such a complex game across 3 platforms but your inability or unwillingness to recognize how detrimental this situation is has confirmed my belief that you are not masters of your game and are not worthy carrying on the BF franchise. That mantle should be reserved for a studio who takes their responsibilities as artists and game makers seriously.
It has become evident after 10 years that DICE is just not on a trajectory to get Battlefield to that level of refinement (not perfection) that it so desperately deserves. There's a lot of money invested in these games and people spend a ton of time and that means DICE has a huge impact on our lives whether we realize it or not. By allowing a bug that encourages cheating and ruins player experiences (often without them being none the wiser) they are in effect using that time we are devoting to them to make our lives worse. That's not right. This is an entertainment company. True, entertainment isn't always fun and sometimes it is challenging and frustrating but that is because it is intended - not the result of sloppy craftsmanship as it is here.
So to a beleaguered EA I say that it is time to do what you do best and sever this sour relationship and hand the franchise over to a capable and worthy team who will honor the BF legacy and deliver on the promise of a great BF game that has been teased and dangled before us for many years but not yet delivered.